Build Your Community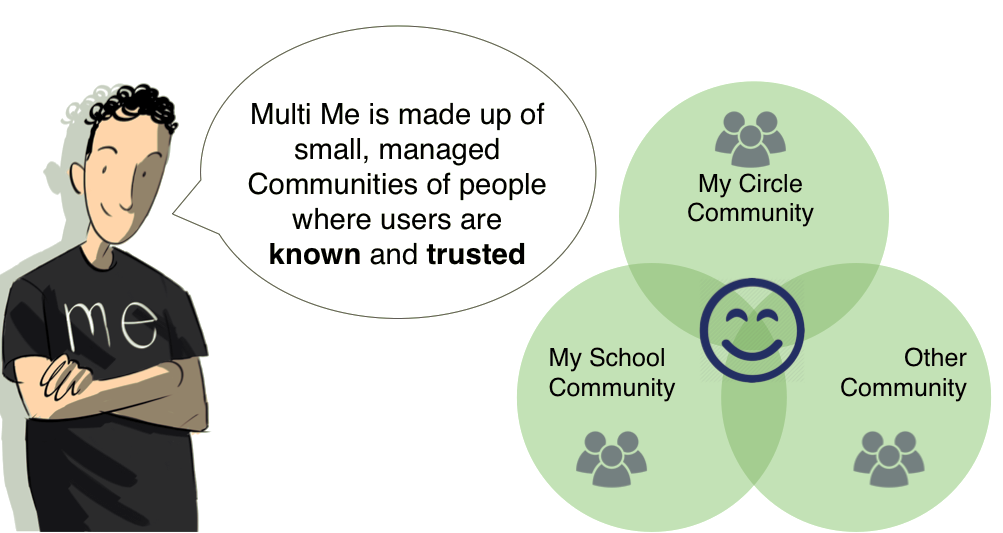 We provide Multi Me Community packages for individuals and organisations
The Multi Me network is made up of lots of different Communities which users need to join in order to gain access to. Communities can either be around a service or group such as a school, college, club or social care provider, or linked directly to an individual (Circle Community). Multi Me users can join any number of these Communities or create their own.
Service based Communities for education, health and social care providers
Circle Communities for individuals and families
Manage your community membership and define roles and responsibilities of users; Admins, Buddies and Members
Create Groups and Events in your community
Moderate sharing of user Stories, Goals, Folders and Conversations
My Circle Community
Multi Me Circle Communities are linked directly to individual users. They provide a secure online social platform for the collaboration of multi-agencies around the persons own support needs and life goals. Circle Communities are typically made up of an individual's friends, family and people who work and support them and form an online support network around them. My Circle Community provides an ideal digital platform to facilitate a child's or young persons Education, Health and Care Plan.
Click here to try Multi Me free for 30 days (PayPal or credit card details required).
Packages for Organisations
Multi Me offers a range of different package options for organisations and services such as schools, colleges, Local Authorities, user-led groups and social care providers.
Multi Me for your organisation is a great way to build personalisation within your service, make your service more outcome focused, build your outreach to families and the wider community and work together with other professional agencies. Multi Me could save you a lot of time 're-inventing' the wheel and improve efficiency within your organisation.  
Interested in seeing what Multi Me could do for YOUR organisation? Please contact us  to start your free trial.